Here are more construction pictures and details for the theater.


A view of the chairs with the entrance in the background and a little bit of the neon around the bar on the left. You can see the subwoofer platform the rear row of seats is mounted on. By the way, the seats are manufactured by Irwin Seating Company and they can be reached in Canada at (905)820-6577. There you can reach Rosemary Pefhany who will refer you to a local dealer.



Looking toward the bar, you can see the projector on the left at the top of the picture. This is the original Runco IDP-800 projector that was replaced by the 900.



Here the screen has been retracted and you can see the cabinet doors left and right of center. The left held equipment that sent audio to other rooms in the house. The right one held the room amplifiers and equalizer. In the middle are a few movie collectibles.



This is the left side of the front cabinet with the rear access door open. Directly behind it you can see my laser disc storage area.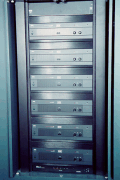 This stack of equipment includes the six NAD THX amplifiers and a RANE THX equalizer.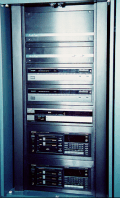 This rack has the house audio system which distributed sound to rooms around the house. It included two Philips Tuners, a JVC S-VHS Recorder for audio, two Pioneer 100 CD players and had a control for an NSM 100 CD player.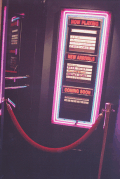 This was the entrance to the theater. We updated the marquee with the names of laser discs we were expecting to arrive. The black lacquer and brass door is on the left.

Back to Home Theater!
---


Home Page
Copyright 1996-2002, Philip Wise. All Rights Reserved.